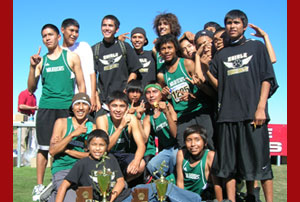 RUNNERS
For the Navajo and Hopi, running is much more than a sport, it is woven into the cultural fabric of their lives and every family's lore contains legends of runners. The footrace appears in both tribes' creation stories, sometimes to settle conflicts between clans or compete with spirit beings. Many Navajo still practice the morning ritual of running east to greet the rising sun and a number of Hopi dance ceremonies involve a race between clans, villages or kachinas. For both cultures running is a vital part of leading a spiritually and physically balanced life.
Ryan Yazzie – Navajo
Ryan Yazzie is the defending state champ with a great shot to be the first in his family to go to college. Growing up without a father, Ryan has already overcome personal hardship but he knows his greatest challenges still lie ahead. Hard work and support from family, tutors and coaches turned his grades and life around but going to college will mean being on his own, far away from the support that's brought him this far.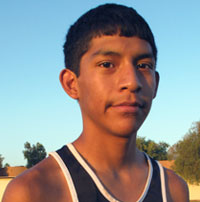 Johnny Yazzie – Navajo
Chinle's freshman phenom, Johnny Yazzie, no relation to Ryan, is also a team leader with immense running talent. Despite his ability, he struggles to stay committed to running and school after his parents' separated under the strain of his father's alcoholism. So far his teammates and coach have kept him in line but he is walking a delicate path between success and self-destruction.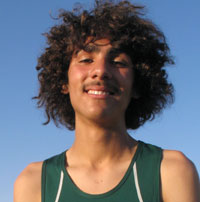 Billy Orman
Billy Orman's tall and lean figure topped by his signature bushy hair is imposing on the line. Being part Puerto Rican he considers himself "brown" just like his Navajo and Hopi teammates. Raised on the reservation from six months old, Billy takes deep pride in his community while remaining aware of the many negatives that surround him and his friends. Billy and Ryan have pushed each other all season becoming the best one-two combination in the entire state. Today, though, only one will cross the line as state champ.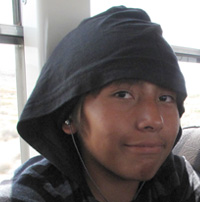 Dennis Klain – Hopi
Grades are no problem for Hopi runner Dennis Klain who is at the top of his class academically despite the death of his older brother.  Running ultimately helped him stave off depression and now he wants nothing more than to bring home a championship and take his own place in the proud running tradition of his family and Hopi tribe.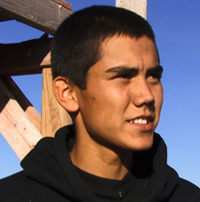 Koyai Clauschee – Navajo
A talented athlete who has college dreams, running helped Koyai realize he was hanging with the wrong crowd. While his ultimate dreams are on the basketball court, running is a key part of achieving the scholarship he needs to afford college. As a captain and leader, the fate of the team rests largely on his shoulders and his ability to stay focused.
COACHES
For coaches Shaun Martin of Chinle and Carl Perry of Tuba City harnessing the immense running talent of Navajo and Hopi youth for obtaining more than just school championships requires endless amounts of patience, persistence and resolve. Both often find themselves playing the role of tutor, mentor, and sometimes, even father — but each in a very different way.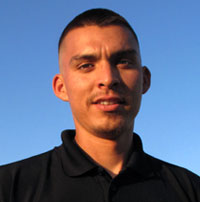 Shaun Martin – Navajo-Chinle Cross Country Coach, 2004-2011
Shaun Martin states it very simply, everything he has in this world he got from running.
A Navajo, Martin grew up in Page, Arizona. He started running not long after he could walk and hasn't stopped since. He didn't have much of a choice, the Martins are a running family. His father Allen Martin made sure he and his three brothers practiced the Navajo tradition of dagha, running to the east to greet the sunrise every morning. On his fourth birthday he won his first race prize, youngest-runner at the Page Memorial Day 5K, and he hasn't looked back since.
Martin went on to run for Page High School and got a full-ride to Northern Arizona University in Flagstaff, Arizona. There he met his future wife Melissa Yazzie, and shortly after graduation they married and moved to Chinle. In 2004, Martin was hired by Chinle High School to teach strength and conditioning as well as coach the boys cross country team.
For Martin the most important thing is taking kids to the next level – not of sports but of education – and running is the way he helps them get there. As a coach he helps his runners reconnect with their Navajo way of life and learn a goal setting approach to personal achievement. Trophies and state titles are always secondary to individual progress and in the classroom as well as their lives his runners have always achieved more.
The results speak for themselves. Since he started coaching, his boys teams progressively moved up from sixth place to achieve back to back state titles in 2010 and 2011. In 2008, he also took over coaching the girls team from Melissa after their first child, Maverick was born. Between he and his wife, the Chinle girls won five state championship titles. But far more importantly, the scholarships started rolling in. In 2011, all 10 of his senior runners received college scholarships.
In 2012, his achievements in the classroom were recognized by the National Rural Educators Association (NREA) who awarded him the prestigious Teacher of the Year. That same year, Shaun decided not to return as coach, a very difficult decision involving mounting tension with the school's athletic director over the future of the program. He continues to teach at Chinle though he is now more focused on his family, including the Martin's latest addition, Isabell, and on his own progression as an ultra-runner.
Among his many running achievements are wins at the Goblin Valley 50K, the Red Mountain 50K (course record holder), the Shiprock Marathon (course record holder), and the 148-mile Desert Rats race. He recently picked up sponsorship from Ryno Running and is planning to organize an ultra for 2013 through Canyon de Chelly.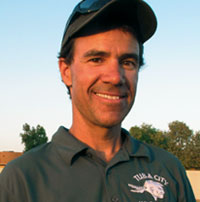 Carl Perry – Tuba City Cross Country Coach, 2007-2009
Carl Perry grew up in Bedford, Massachusetts, a suburb fifteen miles northwest of Boston. He graduated from Princeton University in 1988 with an A.B. degree in geological and geophysical sciences. In 1997, he and his wife, Amanda, moved to Tuba City, Arizona on the Navajo Indian Reservation after Amanda accepted a job as a physician at the Tuba City Indian Medical Center. In Tuba City they spent thirteen years raising their three children.
Perry has been an avid distance runner since high school, and ran cross country and track for Princeton University. He eventually directed that love toward coaching distance runners at Tuba City High School. In 2005, Perry took on a volunteer position as an assistant cross country coach at Tuba City High School and was offered a job as distance track coach in the spring of 2006 and assistant cross country coach in the fall of 2006. In the spring of 2007 he was named head coach of both the track and cross country teams at Tuba City High School.
As a coach, he is most proud of the change in expectations that occurred on the teams he coached. When he began coaching, the dominant academic goal for most of the team was maintaining C's – the minimum grade required to remain academically eligible to compete. Missing track and cross country meets due to academic ineligibility was common.
When Perry became an assistant coach in he began to encourage much more, and as head coach in 2007 he put forward a new team motto: Be a good person first, a good student second, and a good athlete third.
By the end of the 2007 cross country season twelve of the seventeen runners on the team made the Honor Roll, with nine of those twelve on the A Honor Roll. None were academically ineligible for a single race. Two freshmen on that team graduated second and third in their class, and went on to attend the University of New Mexico, and Harvard University. Since then another runner went on to Harvard University and others have gone to go on to colleges and junior colleges that would not have been options before they began running under Perry.
Rather than diminish athletic achievements, setting a high bar helped rekindle Tuba City's long dormant distance running program. Between 1970 and 1984, Tuba City cross country teams won 14 state titles and were twice nationally ranked. But following the death of Bud Davis, Tuba City's hall of fame coach, in 1984 the school had only three cross country team championships, and no individual state champions in track or cross country over the next 22 years.
During the four cross country and five track seasons Perry coached, Tuba City had at least one individual state champion in every season. The teams and athletes he coached won three consecutive Arizona state cross country team titles, four 4x800m relay titles, and eleven individual cross country and track state titles by six different athletes, two of whom were nationally ranked. Perry was named the Navajo Times Coach of the Year in 2007 and 2009, and 3A North Coach of the Year in 2007, 2008, and 2009.
In 2010, Perry and his family made the difficult decision to move to Flagstaff to take advantage of the outstanding educational opportunities available for their three children. He went on to coach his son's Odyssey of the Mind team at Northland Preparatory Academy. The team went on to win the Northern Arizona Region Championships and Arizona State Championships, before placing 9th among 48 teams at the World Finals at the University of Maryland.
Perry has a Master of Artis in Teaching Science from Western Governors University and completed his demonstration teaching of advanced biology and anatomy at Tuba City High School in 2008. He hopes to eventually teach middle or high school biology or general science.
While in Tuba City Perry was also elected president of the Parent Teacher Organization at Moencopi Day School, and vice-chairman of the board of the Itaatunatya Organization overseeing activities at the Moencopi Youth Center.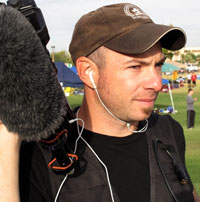 Brian Truglio – Producer/ Director
Brian Truglio is a filmmaker and editor with 15 years experience in both film and television. 'Racing the Rez' is his first feature length documentary. Truglio is a freelance editor and part time lecturer at Emerson College as well as a former cross-country runner, current distance runner. He has worked and lived on the Navajo reservation.
Click for full BIO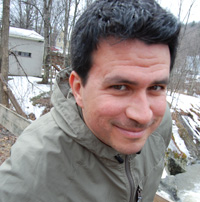 Sean Sandefur – Editor
Sean Sandefur is a documentary film and television editor with over15 years experience. Sean has worked on projects for PBS, BBC-World, Discovery Channel, National Geographic, A&E, History and many other networks and independent outlets. His documentary editing credits include The Unholy Tarahumara (1998), an award winning and poetic representation of the lifestyle and culture of the Tarahumara Indians, renowned runners from the vast and astonishing Copper Canyon area of Chihuahua, Mexico. Filmed over a period of five years, the documentary overlays Tarahumara folk tales with footage of the day-to-day life and culture of a traditional people confronting the lure of modern life.
From 2004-05, Mr. Sandefur edited Raising Cain (PBS) featuring child psychologist Michael Thompson taking an in-depth look at the emotional lives of adolescent boys that was broadcast nationally by PBS as a 2 hour special. His other documentary credits include Nobel Highlights (2007, 2008) for BBC-World. Among his series work, Mr. Sandefur has edited shows for: Market Warriors (WGBH/PBS 2012), Design Squad (WGBH/PBS, 2008-09), The Works (History, 2008), Build It Bigger (Discovery, 2007), Extreme Engineering (Discovery 2005-06), and Kids by the Dozen (TLC, 2007). He works and resides in Boston, MA.